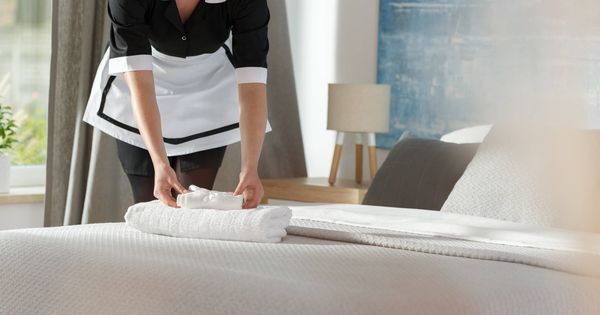 Experience exceptional hotel cleaning
We perform hotel cleaning for hotels and event venues with the wellbeing of your guests in mind. Our team works to ensure that anyone who visits has a positive experience and leaves your venue feeling satisfied.
Your guests trust your hotel or resort to be their home away from home, so it's imperative that with quality hotel cleaning, you provide the highest level of comfort, satisfaction, prompt service and extraordinary cleanliness to every guest, every day.
Housekeeping

We provide a complete housekeeping team, including room attendants, housepeople, and supervisors. We can also clean public and service areas as well as providing general maintenance.

Concierge Services

We provide rooms division staff, including front desk attendants, valet parking, and concierge.

Human Resources Management

We manage your human resources needs, including hiring and training staff, managing your team's salary, labor relations and employee health and safety needs. We provide qualified, trustworthy staff for many different positions, even on short notice, and manage your personnel as needed to keep client service operations running smoothly. Our team can also supervise your reception team, housekeeping staff, day porters and valets to ensure your support staff are working together to create a positive guest experience.
Holding events at your venue? The QCMaintenance team can provide special cleaning in advance to ensure the facility makes a good impression. Need a little extra help making the event a success? We can manage or provide support for your event from start to finish, including everything from equipment setup and takedown to logistical and operational support to waste management.
Event Support

We provide event support services to help your event go smoothly from start to finish – with services before, during and after the big day.
Facility Cleaning We provide one-time, unique, and recurring cleaning schedules and disinfection and can tailor our services to your needs which we understand can change based on the time of year and event schedule.