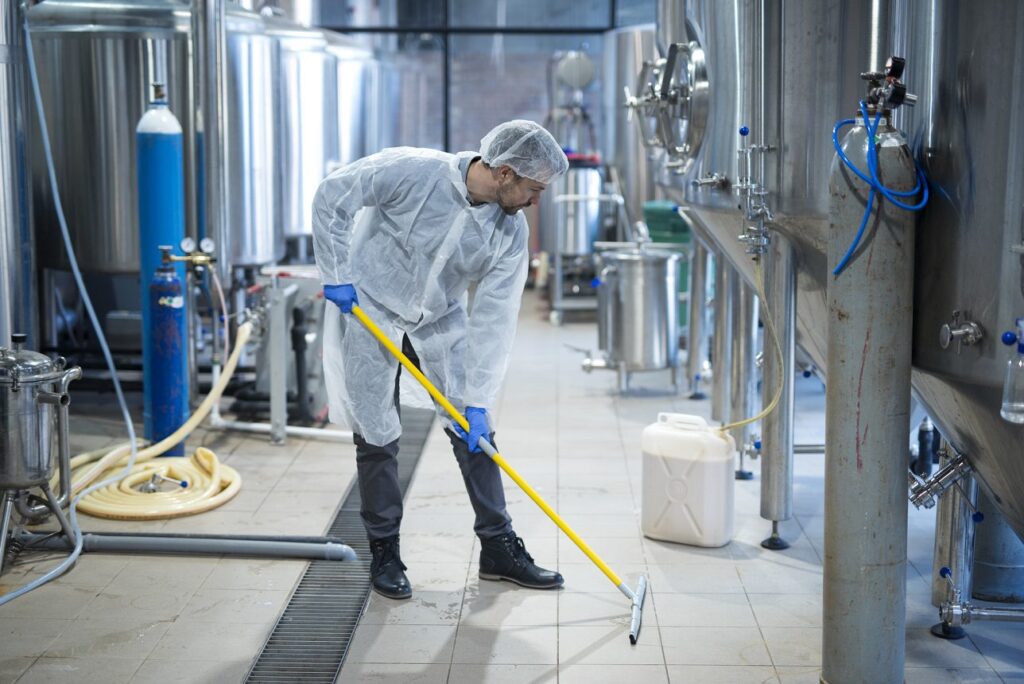 Heavy-duty work requires heavy duty industrial cleaning services
Su instalación trabaja arduamente para producir bienes y servicios que la gente necesita.
Trabajamos igual de duro para garantizar que su equipo pueda hacerlo en un entorno limpio y seguro.
Nuestro grupo tiene las habilidades únicas y el equipo especial necesario para brindar servicios profesionales de limpieza industrial.
No importa la instalación, podemos limpiar compresores de aire, acondicionadores de aire, intercambiadores de calor, sistemas hidráulicos, de lubricación y de agua, serpentines de enfriamiento, calentadores de proceso, reactores, hornos de explosión, oxígeno, vacío y eléctricos, depósitos hidráulicos, tanques. enfriadores, evaporadores y más.
Instalaciones de fabricación y distribución
Our experts allocate the right manpower, equipment and supplies to ensure that your industrial cleaning needs are met. We understand the challenges that Manufacturing & Distribution facilities face today. As a result, your QCMaintenance team will mesh seamlessly with the rest of your operation.
Consumer Products We understand that Consumer Products manufacturing facilities face special cleaning needs with the constant movement of materials, equipment and people which increases the amount of dust and dirt in the working environment. A clean working environment improves efficiency so it's important to reduce this particle movement for the health of your employees and to maintain proper equipment operation.
Automotive Safety and performance are paramount in Automotive Plants as they are in other market sectors. Our industry-leading expertise and uniquely integrated cleaning solutions will help save you time, resources and money – delivering real operational efficiencies and cost savings.

Paper

No matter the material, we can take care of your cleaning needs.

Printing

Our cleaning services are hot off the press – and we can keep up with this fastpaced environment.
Textiles In Textile Plants, providing facility services in today's economy is challenging and brings financial and operational pressure. You are asked to deliver it all; quality performance, savings, sustainable practices and continuous improvement – and we can help.
Biopharmaceutical Biopharmaceutical facilities require special cleaning programs designed for effective and consistent cleaning to avoid cross-contamination and the cleaning processes must be verified as effective – here at QCMaintenance, we provide these services and much more for the health and safety of your clients and their customers.
Food and Power Plants
At QCMaintenance we believe cleaning for health is an integral part of safety – especially in environments where food and energy production is taking place. Our employees are on the front-lines with commercial disinfectant cleaning services to ensure your plant meets the stringent standards needed to keep your customers and the world safe.
Alimentos y bebidas

QCMaintenance ofrece servicios de saneamiento de plantas de alimentos específicos y personalizados, tanto en ambientes húmedos como secos.

Energía y energía

Ya sea que su instalación opere con combustibles fósiles, energía nuclear, vapor, cogeneración, petroquímica o refinería, entendemos que las instalaciones de Power Plants & Energy enfrentan necesidades especiales de limpieza para mantener constantemente el cumplimiento normativo, las preocupaciones ambientales, la seguridad y la prevención de accidentes.

Mantener un entorno de trabajo limpio y seguro requiere la realización profesional de muchas tareas de apoyo, como la limpieza… tareas que tienen que salir bien y que podemos ayudarle a realizar sin problemas y sin incidentes.