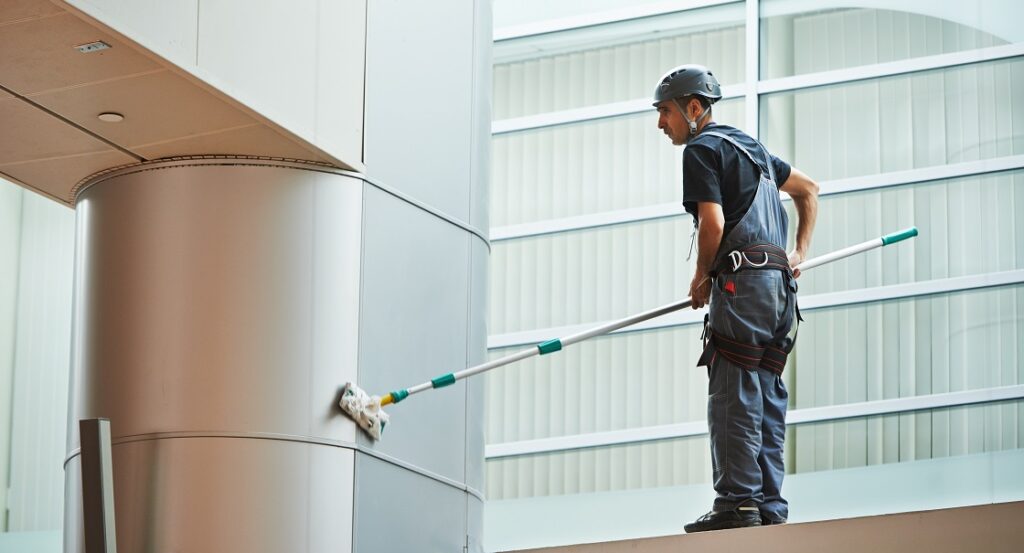 Building cleaning services for North America's most important institutions
When it comes to cleaning in institutions, there is an expectation of high standards for our building cleaning services. We understand that security, privacy, and compliance are of utmost importance, and you can count on us to adhere closely to all regulations, including conducting background checks on employees when requested and enforcing privacy agreements amongst our staff. Institutions serve a wide variety of people, and our diverse team values those differences and is always making strides to improve with Environmental, Social, and Governance policies that align with our clients' goals and motivations.
Our team of office cleaners have almost a century of experience cleaning in buildings and industries of all types – we have a deep respect for the needs of our public sector clients and have experience cleaning sensitive facilities. We provide a range of cleaning services to keep your facilities looking good while also ensuring that confidential data and information is kept secure by requiring background checks, using encrypted communication tools, and enforcing non-disclosure policies.
Federal And Provincial/State Buildings

From courthouses to parliaments and government office buildings – we can take care of an entire government institution under QCMaintenance's umbrella of services to facilitate easier management of facility services and simplified billing processes.

Defense And Law Enforcement

We are a trusted facility services provider you can rely on for all of your facility services needs. As a part of your team, we take the responsibility of protecting your soldiers, officers, and building occupants by ensuring a safe and healthy building that meets regulatory compliance requirements.
Facility maintenance tasks can add up – that's why we offer customizable business gleaning services. We also understand that confidentiality is paramount in financial institutions, and our team has the experience and processes required to ensure nothing in your facility is compromised.
Banks We provided integrated solutions not just for cleaning, but for almost every aspect specific to your building. All of our platforms are safe and secure, and we can contract security services as well to protect your bank in more ways than one.

Financial Offices

We understand the fast-paced nature of financial and insurance offices, as well as the sensitive nature of the data and files held inside. Always complying with legal and regulatory requirements, our team is trained to work around your schedules and can provide services during the day or at night depending on your needs.
A city is an extension of home, where we spend time with friends and family, work, and play. That's why QCMaintenance is dedicated to making sure that cities are beautiful, smart, and livable spaces for everyone.
We offer a wide range of services aimed at helping municipalities achieve these goals: from business improvement district services and police department support to city hall building maintenance, we're here to help municipalities fulfill their mission to serve the needs of their citizens. Our team is also aligned with environmental, social, and governance and diversity initiatives that match the values and priorities of municipalities today."
Business Improvement District Services

Enhance the reputation of your downtown areas with the QCMaintenance team. We have project managers that can have trained personnel assist with directions, Segway patrols, bike patrols and even event recommendation and sightseeing. Meanwhile, our maintenance team can handle litter control, weed removal, mechanical sweeping, and steam cleaning.
Emergency Departments You're there for your community, and we're here for you. As a trusted facility services provider, can meet your unique needs regularly or in an emergency.
City Halls And Facilities Your municipal buildings are the representation of what your city has to offer, and we want you to be proud of them. From city council meetings to swimming pools and libraries, our team is experienced in a variety of unique environments and provides specialty services along with our regular suite of cleaning offerings.